Outback Botanics
Rugged Restoration Mens Face Moisturiser
The Australian Outback is a harsh place, the plants need to be tough to survive. Over the thousands of years these hard conditions have pushed the plants to evolve to become super plants. These plants are ready to impart their powerful properties to your skin to:
Hydrate with Vitamin C
Combat aging with potent anti-oxidants
Brightening via Vitamin C and phytonutrients
Protect the skin from harsh elements
This moisturiser has the powerful nutrients of the Outback super plants as well as some other internationally recognised skin heavy weights. To naturally moisturise your skin like no other. Not only moisturise but these beauties have a raft of naturally occurring antioxidants to restore your skin.
Kakadu Plum, Mountain Pepper and White Cypress native extracts are included to hydrate, clearer looking skin, reduce fine lines and signs of aging and protect from the environment.
Additional internationally and scientifically recognised plant extracts include Guto Kola, Green, Liquorice Root and Ginkgo Extract. All have their unique benefits to the skin, working together they create a moisturiser like no other.
 How to use:
We recommend daily use of this moisturiser.
The best time is after your skin has been cleansed while the skin is still slightly damp. If you use a serum, we recommend first applying the serum before the moisturiser. This way your skin is replenished, hydrated and protected for the day or night.
Pump the moisturiser on to your finger and rub in your hands. Or alternatively apply directly from your finger to your face.
Apply to cheeks using gentle circular motions
Apply to the forehead and neck
Smooth over your face with soft gentle strokes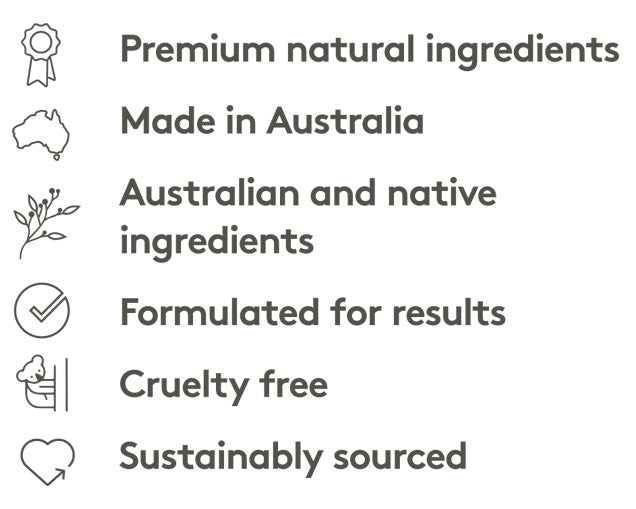 Customer Reviews
08/27/2020
Clive M.
Australia
Moisturiser
It's really good , I just find the spout a bit narrow , you need to pump 5 times to get a decent amount for your face
Great Moisturiser
This product is a great moisturiser with a bit of a cooling sensation when applied and absorbs really well. Very nice smell that reminds you of a quality beard oil. Fantastic that it's made from all natural Australian ingredients. Quick delivery. Highly recommended.
Quality product
Have been using this for a few weeks now. Quality product that keeps your skin hydrated all day and has such a great smell. Doesn't make your skin oily. Fast delivery. Will be ordering again.