Outback Botanics
Nourishing Nutrients Natural Body Lotion
This is not your average body lotion, it is formulated with a range of powerful plants to achieve some big results and leave your body loving you. 
This unique blend of natural ingredients, extracts and oils will enliven your body with natural nutrients and is:
Hydrating through a range of powerful anti-oxidants
Gentle for sensitive skin
Revitalising for dry, red, itchy or flaky skin
Helps to reduce signs of aging of the body's skin
Comforting and relaxing blend of natural essential oils
active in nutrients that promotes soft and smooth subtle skin
This body lotion includes a range of plants, both native to Australia and other proven non-indigenous plants with the specific goal of creating the best natural body lotion.
With a range of plant extracts including native Waratah, Riberry, Finger Lime and complimented with Comfrey Root, Oats, Olive Leaf and Rosemary extracts.
Waratah native to South Eastern Australia contains terpenoids which are known for being gentle on the skin, to hydrate and soften redness. 
Riberry  is a small rainforest tree with bright red berries which grows in Northern New South Wales to Queensland. For a small berry Riberry is a powerhouse suite of nutrients containing Anthocyanin - Flavonoid, Tryptophan  - Alpha Amino Acid, Biflorin - Chromone, Agycone - Flavonone and Oleanolic Acid - Triterpene. These work together to reduce redness, hydrate, protect against enivronmental damage and add a feeling of smoothness to the skin.
Finger Lime contains Ferulic Acid  - Hydroxycinnamic Acid and Byangelicin - Flavonone, working together these phytonutrients reduce the appearance of fine lines and hydrates the skin.
Comfrey Root, Oats, Olive Leaf and Rosemary extracts are internationally recognised for their strong natural benefits for nourishing the skin are included in this body lotion.
Treat your body and sooth your soul with this beautiful natural lotion.
Aloe Barbadensis (Aloe) Leaf Juice, Glycerin, Cetearyl Alcohol, Glyceryl Stearate, Rosmarinus Officinalis (Rosemary) Extract, Olea Europaea (Olive) Leaf Extract,  Prunus Amygdalus Dulcis (Sweet Almond) Oil, Cetearyl Olivate and Sorbitan Olivate, Glyceryl Caprylate, Simmondsia Chinensis (Jojoba) Seed Oil, Davidsonia Jerseyana (Davidson Plum) extract, Telopea Speciosissima (Waratah) Extract, Syzygium Luehmannii (Riberry) Extract, Citrus australasica (Finger Lime) Extract, Symphytum Officinale (Comfrey Root) Extract, Avena Sativa (Oats) Extract, Lavandula Angustifolia (Lavender) Oil, Citrus Aurantium Dulcis (Orange) Peel Oil, Citrus Aurantium Bergamia (Bergamot) Fruit Oil, Origanum Marjorana (Marjoram) Leaf Oil, Anthemis Nobilis (Chamomile) Flower Oil, Sodium Benzoate
We recommend using this body lotion daily for the best results and to also keep your skin well maintained.
A good time to apply the body lotion is after you have washed and lightly dried your body. 
When your body is slightly damp is a good time apply the body lotion
Apply the lotion to your hands and rub together to create an even distribution on your hands
Massage the lotion into your body with a circular motion
Use long gentle strokes to apply the remaining amount into the skin so that it is absorbed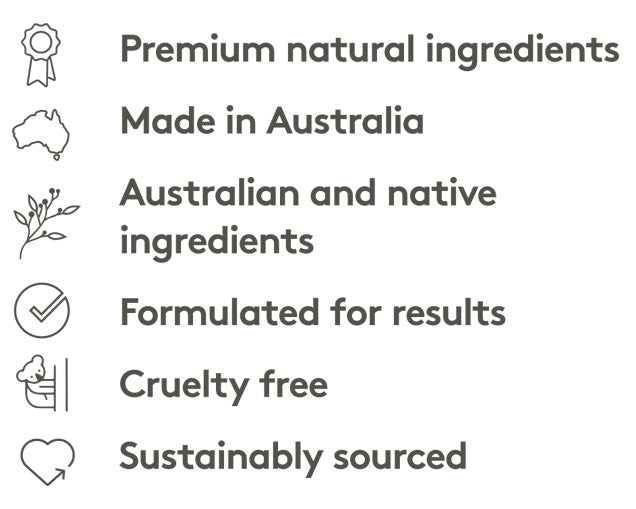 Customer Reviews
Great body lotion
A great body lotion, I would definitely recommend it.
Super hydrating!
Skin feels supple and moisturised for hours so I don't have to re-apply :D
03/18/2019
Inger K.
Australia
Love it!
I love this lotion, it smells beautiful and feels great on your skin. Looking forward to coming out of the shower for this stuff :)
02/18/2019
Alanah D.
New Zealand
Love my hydrated skin
I've been using this a few weeks now and I love how hydrated it keeps your skin for ages! And I especially love how quickly it soaks into your skin. The list of ingredients makes me happy to put this onto my skin!!!