Outback Botanics
Australian Beard Oil
Australia has a long tradition of Outback beard growers, prospectors in the gold rush, bushrangers and those who work the land. Continuing this tradition and homage to the Australian beard, we have created a unique Australian beard oil with Australian ingredients.
Our unique bush blend:
Hydrates, conditions and softens the skin
Moisturisers facial hair and skin
Gives the beard a health shine
Creates a styled and solid beard look
Makes your beard healthy to grow into the perfect beard
Our beard oil is 100% natural and includes Australian Macadamia Nut oil, Australian Olive Oil - sourced from award winning Romley Estate in South Australia, Sandalwood Nut Oil, Australian grown hemp seed and jojoba oil.

All our ingredients are sourced and grown sustainably to ensure old growth forests and wildlife are preserved and protected.
Fragranced with Australian Sandalwood, Blue Cypress and Lemon Scented Eucalyptus essential oils.
Give your beard the unique goodness from the Australian Outback.
Macadamia Integrifolia (Macadamia) Nut Oil, Olea Europaea (Olive) Oil, Santalum Spicatum (Sandalwood) Nut Oil, (Hemp) Seed Oil, Simmondsia Chinensis (Jojoba) Oil, Santalum Spicatum (Sandalwood) Essential Oil, Callitris Intratropica (Blue Cypress) Oil, Eucalyptus Citriodora (Lemon Scented Eucalyptus) Oil
You can use a beard oil as often as you like. We recommend daily after washing and drying your beard. This replenishes and rehydrates your skin and facial hair.
Starting from one side of your beard to the other, apply approximately two drops of oil to your finger and apply to your beard, gentling massaging the oil into the beard through to the skin. You want to apply enough oil to give the beard a sheen that reaches the skin, yet without saturating the beard. Continue this process until you have applied the oil to your entire beard. After completing run a beard comb through your beard to neaten and evenly spread the oil more through the beard.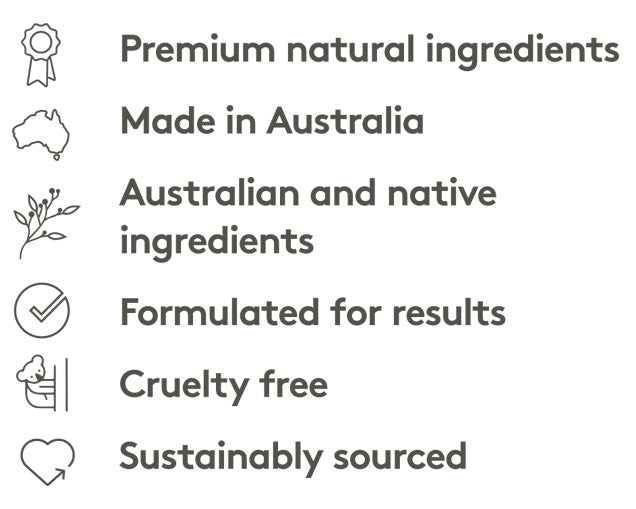 Customer Reviews
06/01/2020
Johanna R.

Australia
Nourishing with a subtle scent
Does the job of keeping the beard soft, looks after the skin underneath, and doesn't smell like you've splashed on a handful of cologne. Thumbs up.